The 6th of March as part of the Norwegian Petroleum Assistance Program together with DNMA I contributed to a workshop to be held at the Arbiru Hotel in Dili, Timor Leste. The intended outcome was to contribute to a process for establishing better handling of environmental data. The workshop was opened by his Excellency Sr. Abilio de Deus de Jesus Lima, State Secretary for the Environment.
Translations/terjemahan/tradução: Bahasa and/dan/e Portuguese
The following documents are copies of the workshop invitation and all presentations:
[wpfilebase tag=list id=2 tpl=table /]
The workshop had 36 participants from government offices, NGOs and commercial companies. Presenters at the workshop were:
Solveig Andresen
Ragnvald Larsen
Ivete Leite de Oliveira
Fransisco Poto
Ligia P. A. dos Santos
Moizes G. de Zar
The workshop was built around three themes:
Data overview and review
Establishing a rationale for spatial data and pointing to ways of disseminating data
Providing a framework to take the process forward discussing the Environmental Information Network (per UNEP) and an initiative from UN Mission in Timor on establishing a centralized mapping authority.
A central figure from my own presentations is this one:
Very briefly it illustrates the basics of a spatial data infrastructure. This is how easy it is – and at the same time how difficult. It might require the collaboration of many governmental institutions. In most countries, also Norway, it's a challenge.
Group work 1
The intention with the first group work was to look at the environmental data overview collected by the DN team together with Ms Ivete Leite de Oliveira. The availability and description of structured environmental data was not good. We therefore tried to get a general overview of spatial data and hoped that this would lead us to relevant sources. The initial overview is based on interviews and a structured review of data in the GIS group in Timor Leste. All of this was entered into a Microsoft Access database:
With this review process we managed to pick up suggestions and ideas. Some errors were corrected as well. A proper process leading towards a national overview of data sets is however well beyond the ambition of this group work.
The 45 minutes available were however used wisely by the participants. Particularly useful feedback's were:
additions of data sets
a suggestion to use a group category (implemented in the database)
duplicate categories (district/sub district/etc limits could be in administrative limits)
Some data sets were removed as they were considered irrelevant/non-existent
The outcome is in no way meant to be an authoritative list of spatial data in Timor Leste. Focus in this group work was to look at how much work will have to go into a proper process. I believe that the participants understand that this is a lot of work – and that a more structured effort on a governmental level (for data in general) is needed. For environmental data the UNEP Environmental Information Network was mentioned later this day.
We tried to update the initial database with feedback from the groups. Both printouts and the database itself are available for download. Download information is available in a separate table in this posting.
Group work 1 – conclusions
It is necessary to make a coordinated effort to structure environmental spatial data and other data sets.
Group work 2
The remaining participants (26) were divided into 5 groups and presented with 5 questions on 5 stations. All groups contributed by PostIt notes and comments on a sheet of paper with the questions on them.
Question 1
The clearing house pilot presented by Moizes and Ligia was made available foor the users and they could then try it out and comment on how they considered it as a tool. We asked:
-Looking at the online clearing house pilot, what is good and not so good?
What is good?

User friendly
Current speed and refresh speed of the maps.
Allows for geographical information to all users
Reduction of consumables
Users can make their own maps
Good way to make reports, presentations, maps and other docs accessible
What is not good?

Needs institutional appearance according to government guidelines
Maps need copyright information
Ability to aggregate and interact with layers individually.
Needs function for user feedback
Needs to address language issues for maximum accessibility
Metadata needed: Who, when, how
Sustainability
Need decission about internal externally available information
Language confusion (Currently a mix of Tetum,Portuguese, Bahasa and Englis)
Question 2
Access to environmental information is approached differently in countries around the world. Many countries even have access to environmental information as part of their constitution. We wondered if the participants had any views of this matter and asked:
– Who should have access to online environmental data?
Government, NGOs, Academia, Companies, Religious organizations, General public, UN,
There were mentions of categorized access limits based on use.
Question 3
The coordination of spatial data in a country is necessary for a host of good reasons, ranging from political to technical. What were the participants sentiment on this issue. We asked:
– Who should coordinate spatial data in Timor Leste?
A future mapping authority was suggested. This entity should have communications with relevant partners (See answers to question 4). An Environmental Network with clear Standard Operative Procedures
Question 4
For proper coordination of spatial data it is necessary to interact with stakeholders and relevant expertise. We asked:
– Who should be partners in coordinating environmental data?
Academical and research institutions
Government agencies
NGOs
Donor agencies
Local government
Question 5
The conclusion from the Norwegian expert was that to be able to use environmental spatial data in a structured way it would be necessary to work on standards and systems. In that context it is important to establish an understanding of the constraints. We asked:
– What stops us from making better environmental data systems?
Technical knowledge of deploying such systems and keeping them operational.
Maintenance
Use of such systems because they are often not home-grown or they are difficult to understand
Lack of awareness
Lack of a staffing table
Scarcity of data
Limited experience and understanding of using environmental data
Institutional issues: Roles and responsibilities not clear
We do not understand the data we have. Poor metadata.
Lack of training
Lack of knowledge
Lack of consistency (data and team management)
Group work 2 – conclusions
A conclusion of this work is that it will be important to do some coordination of environmental spatial data. Some feedbacks were made in this work, and the pilot study at DNMA will be a starting point for the further work.
Images
Some images were taken from the workshop. They area available in the below gallery: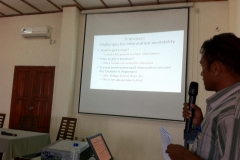 20 Photos
Some relevant links
Concluding remarks
Comments on this posting from participants and other are welcomed!